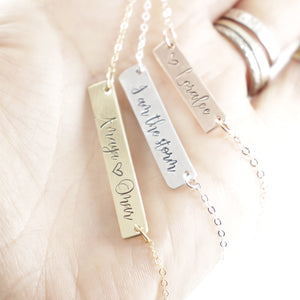 ABOUT THIS ITEM:

A 1/4" x 1-1.5" sterling silver, 14KT Gold-filled or 14K Rose Gold Filled bar we be hand cut, stamped with your choice of words in this beautiful script font, given a rich brushed finish and the letters darkened for contrast. If you wish to have the words left plain (no blackening), then please put that in the notes.
Small:  1" wide, 1-8 Characters and spaces
Medium:  1.25" wide, 9-15 Characters and spaces
Large: 1.5" wide, 16-21 Characters and spaces
A heart counts as one character. 
The bar hangs from a delicate chain in the same metal choice as the charm in your choice of 16, 18 or 20".

NOTE: Gold filled is NOT gold plated. Gold-filled is constructed in three layers. The core metal is jewelers' brass. A gold alloy is then bonded to one or both surfaces of the brass core with heat and pressure. Unlike plated (aka electroplated or "dipped") metals, Gold-filled is legally required to contain 5% or 1/20 gold by weight. This 5% is then described by the karatage of the gold alloy. Our Gold-filled items are 14kt gold-filled. 14k Gold-filled products are identified as 14/20 Gold-filled; alternatively, 14kt Gold-Filled is also acceptable.
Due to the handmade nature of these items, they will not have machine-made "perfection". EACH design and letter is individually hammered, one strike at a time, BY HAND. This may lead to some variations in the spacing, depth of the designs and placement of the letters. This is not to be considered a defect, but instead a part of the unique character of the piece.

Your gift will be shipped ready to give - tastefully carded and tucked into a reusable fabric pouch. Gift wrap & a personal note can be added on at checkout, if desired.

All items are shipped via USPS First-Class Mail, unless a shipping upgrade is chosen to add faster options. During high volume periods (around major gift giving holidays), we ALWAYS recommend that you use PRIORITY shipping for a few dollars more. Priority mail is processed more quickly than First Class (typically delivered in 3 days or less) and includes insurance to cover your purchase from loss or damage during transit.

* GREEN THINKING: Whenever possible, we source our supplies from other small domestic businesses and recycle/reuse packaging materials to help reduce our environmental impact. Our precious metals are refined at a location that is environmentally and energy responsible. We recycle all acceptable waste/scrap metal to reduce our landfill footprint. Our standard packaging is completely recyclable other than the fabric pouch, which is reusable.

* Please be aware that the photos shown are simply a representation of previous items I have created and may not be exactly what you receive, as each item is uniquely created just for you at the time you order.

Please follow us on social! We can be found on:

WEB: www.completelywiredjewelry.com
ETSY: www.etsy.com/shop/completelywiredjewel
TWITTER: twitter.com/awwsomnessprime
FACEBOOK: www.facebook.com/completelywired
PINTEREST: pinterest.com/CompletelyWired/
INSTAGRAM: http://instagram.com/awwsomenessprime