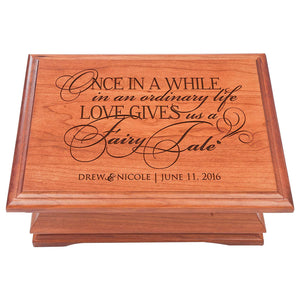 Our personalized cherry jewelry box makes a gift that will cherished for a lifetime. This elegant personalized keepsake box is the perfect gift to hold your watches, rings, cufflinks, bracelets, necklaces & special mementos. The satin interior and its rich finish along with free personalization make this a truly special gift. The felt bottom feet will keep any surface scratch free along with free laser engraving to this jewelry box for one of a kind that is truly created just for you. Keeping your jewelry organized and accessible is easy with this jewelry box. It blends a contemporary style with a rich cherry & maple finish to complement virtually any style of decor, from traditional to modern. Made in USA and Designed exclusively by ©️ 2019 LifeSong Milestones
This personalized wooden jewelry box includes a flip-top lid and inset mirror and would be perfect as an anniversary or birthday gift. There are 4 small divided sections and removable drawer.
Anniversary keepsake box has felt feet to keep surfaces scratch free. Made with solid wood and felt lining. Engraved: Once in a while in an ordinary life, love gives us a fairy tale.
Measures 11.5" l x 8.25" w x 5.25" h. Beveled glass mirror measures 8"w x 4"h.Trey has 2.5" x 2.5" compartments along with a 8.25" x 2.5" one. Without trey, box opening is 9.25" x 6"