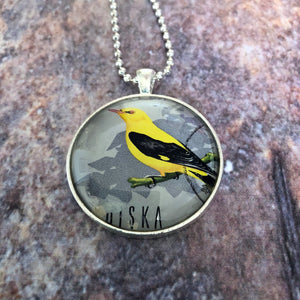 Handmade with the vintage Poland (Polska) 1966 postage stamp, this vintage postage pendant has beautiful yellow, black, and slate grey colouring in a bright silver plated setting.

Handmade vintage upcycled item using only the original postage stamps.

I specialize in vintage postage stamp jewelry because these miniature works of art are so exciting and need to be treasured forever. This stamp is nearly 50 years old, and carried personal news from Eastern Europe to my grandmother in Australia, a legacy of epic love.

Postage stamp jewellery by Starzyia makes a great gift - especially if you choose a stamp from a year or country special to the gift recipient. I recommend this especially for major milestone birthdays and wedding anniversaries.

Size: This pendant is created with the 1966 Polska bird stamp, set under glass in a larger 35mm round setting.
Ready to ship on 24" silver plated ball and chain necklace, easily trims to any shorter length.
You can find info about shipping costs, standard delivery times, as well as our store policies on our FAQ's page here