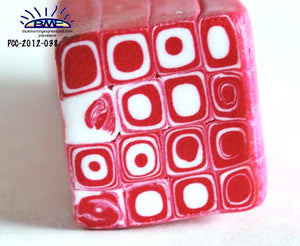 Raw Polymer Clay Cane Red White Spot Klimt  Bead Making
ONE Cane 

2-inches long
1/2-inch face

This cane is built with red and white bricks of clay and each slice will be different. These canes make a great background for other canes or as a standalone bead for bracelets or necklaces. You can further reduce the cane and create a pair of earrings from a slice or two.
Need even more canes? Lots of flowers and other goodies are . 

A raw cane ready for you to take and create fun beads from.

This handmade cane has been completely created by hand out of artist grade polymer clay. Each polymer clay cane is ready to slice and add to your bead making work bench. I use my handmade canes for all my own bead work and am always creating more flowers and leaves in custom color combinations.