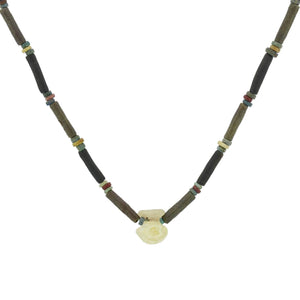 This unusual necklace is a wonderful ancient bead compilation piece! The beautiful design features a variety of colorful Predynastic beads, which have been expertly restrung to form a decorative accessory. The design features an alternating pattern of elongated beads framed by delicate round spacer beads, all in varying earthy tones. The gorgeous colors include soft blue, rusty red, tan, rich brown, and mossy green hues. At the center of the strand is a gorgeous, vessel-shaped clear glass bead, exhibiting a wonderful opaque quality when caught in the light. When worn, the necklace drapes beautifully at the neckline, fastening with a gold spring ring clasp at the back, stamped "585." The combination of colors from these ancient beads is simply fantastic. Whether worn alone, or layered with complimentary necklaces, this piece and would make an exceptional addition to any jewelry collection!
Measurements: The necklace measures approximately 16.5" long, and is about 1/8" thick. The glass bead at the center measures approximately 1/2" long, wide, and thick.
Condition: The necklace is in excellent overall condition. Besides normal surface wear, there is no apparent damage to any of the beads, except for the center bead which has a chip on one side, which may or may not be naturally occurring. It is not noticeable when the necklace is worn with the bead facing the other way. The stringing is secure, and the clasp is in good working order. Due to the age and handmade nature of each bead, they vary slightly in size, shape, and appearance, which adds to the organic beauty of the design.