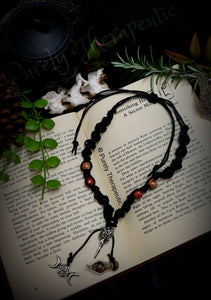 We have designed and handcrafted this Wiccan necklace to protect it's wearer from negative energy, ill-wishing and psychic attacks.
The glass potion bottle contains a protection blend made by us, complimented with the Raven's skull and the triple moon pentagram.
The macrame necklace is adjustable and extends to an approximate maximum length of 41cm. The glass potion bottle is sealed. The wooden beads on the necklace will vary in random color and design. Comes packaged in an organza bag.