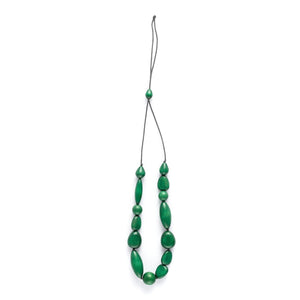 Rare Rabbit Organic Drops Necklace Green. 
Wear this Rare Rabbit Organic Drops necklace every day or to semi-formal occasions. It complements any outfit and looks stunning with your most comfy casual gear. 
All Rare Rabbit products have a natural feel and they have no reported irritations.
This beautiful necklace is handmade with wood and has a waxed cotton cord which is adjustable to fit any size. 
Each piece is created with love and care for those like yourself who appreciate quality and beauty. It can only enhance your already striking appearance.
Add a pair of Rare Rabbit earrings to draw the eye to this beautiful necklace for that special occasion.
Or just wear it because it makes you feel good!