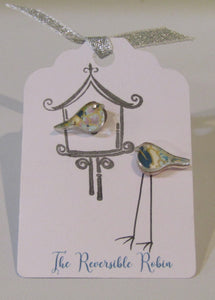 Beautiful Robin jewellery lovingly hand-crafted by Sophie Court. These sweet earrings are made from paper and acrylic and come beautifully gift packaged.

The earrings have sterling silver posts, backs and butterfly clips and measure approximately 1cm (w) by 0.7cm (h).
About Sophie Court
Sophie Court recently graduated from the prestigious School of Jewellery in Birmingham's famous Jewellery Quarter where she completed a BA (Hons) in Jewellery and Silversmithing.
Sophie says, "I have always had an attraction for jewellery, even from a young age. I remember being fascinated by my mother and grandmother's jewellery and was constantly spending all my pocket money on new rings, bracelets, necklaces and earrings.
My first experience of making jewellery was at school, and as you can imagine this was my idea of heaven. I then went on to college and continued with my passion of designing and making.
What makes a piece of jewellery for me is knowing that its unique. This is my objective to my jewellery. Every piece I make is a one off. I choose unusual papers and manipulate it, either by embellishing it, painting it or layering different patterns and colours together. I laser cut the paper along with acrylic. I encase the individual piece of paper, like a photo in a frame."
Every necklace and bracelet charm is reversible and stands alone. Sophie's designs are simple and versatile and can enhance any outfit.

Sophie recently won a prestigious award - Best Fashion Accessory Award - at the British Craft Trade Show 2014.