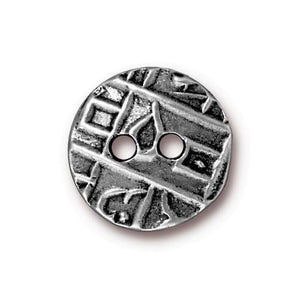 Description
The design on this large two-hole button is both geometric and organic, making it a wonderful focal for jewelry designs. Buttons are the quintessential closure for wrap bracelets, and also make wonderful focals in necklaces and earrings. All of our buttons are great for use on clothing, too - they hold up well with normal washing.
Product Details
Part Number: 94-6558-13
Outer Diameter (mm): 14.75 mm
Hole Diameter (mm): 2 mm
Materials and Finish: Cadmium & Lead free Pewter, Hematite Black plate and lacquered coating
Country of Origin: USA
Qty:  3 Buttons
If you a larger quantity than I have in stock, please email me and I can let you know when more are arriving - or special order more for you.  Also, I do offer a 20% discount when you special order wholesale quantities - Email me for details at .
TierraCast is high quality plated (fine silver, gold, copper and rhodium) lead-free culinary-grade pewter. It is MADE IN AMERICA! The detail on their beads and findings are incredible. I absolutely love the quality. I love the fact that I am supporting an American company and keeping jobs here. Give it a try, you won't be disappointed!
****ANY JEWELRY SHOWN IS TO SHOW SIZE AND DETAIL AND IS NOT INCLUDED IN THE LISTING*****