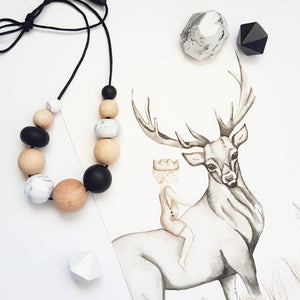 A beautiful blend of wooden and silicone beads on a satin cord string with breakaway clasp.
Silicone Jewellery is intended for Mums to wear AT ALL TIMES and for Baby to play with whilst breastfeeding or whilst being held. Necklaces should never be placed around Baby's neck and should never be given to Baby to play with unattended. 
It is recommended that once you receive your Coo CaChoo Creation, to wash it insome warm, soapy water prior to use.
Items should be checked regularly for any signs of wear, and replacement is recommended after 6 months of regular use
All of our Silicone products have been independently tested by third party organisations and are FDA approved, BPA free and made from 100% food grade silicone. That means they are free from nasties such as PVC, Phthalates, Cadmium, Latex and Lead. 
The Silicone Teethers and Jewellery are odourless, waterproof, heat resistant, and will not promote the growth of bacteria and mould. What's more, they are easily cleaned in some warm, soapy water. 
All wooden parts are all natural, unfinished, non-toxic and untreated hardwood, which again makes them safe and free from nasties.
All of our silicone teething jewellery comes with a breakaway clasp; a safety feature just in case your Bubba decides to hang onto your necklace or bracelet and won't let go!