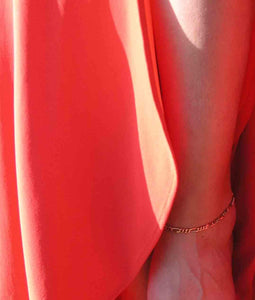 The Celtic Copper Solid Copper 2.2mm Ball Chain Anklet is our most comfortable and easy to wear anklet. The same pure copper, lightweight chain that is so popular as a pendant chain for charms also makes the perfect custom fitting anklet, so comfortable that many of our customers report wearing them while they sleep. The Ball Chain Anklet closes smoothly and securely with a classic chain connector, nothing to catch or snag.
The Celtic Copper Solid Copper Ball Chains can be cut down to a shorter size with a regular pair of scissors to make a smaller anklet or bracelet. If you need a larger size, purchase a necklace and cut it into the perfect custom length anklet.
Anklet Sizes:
The size of your anklet and your anklet-size are two different things. Celtic Copper bracelet, anklet and necklace chain sizes describe the whole length of the jewelry piece, including the clasp. Celtic Copper offers three standard sizes and numerous custom sizing options. Custom jewelry is non-returnable and non-exchangeable.
How To Find Your Best Fitting Anklet Size:
Measure an ankle chain that you know already fits comfortably or take a new measurement. Wrap a tape measure, string or folded piece of paper around your ankle just above the ankle bone. Add approximately one inch to the measurement of your ankle to calculate your best fitting anklet size. For a snug fit add less than an inch, for a more relaxed fit add approximately an inch-and-a-half. Thicker anklet chains and anklets with large beads fit best with an inch or more added to the measurement of your ankle.
Testing your size before you buy is an important step to getting the perfect fit the first time. Once you have chosen your anklet size - test it. Fasten a string or chain around your ankle and flex your foot back and forth or walk up and down a few stairs. If these actions stress or pull the string, make a new, larger test-size and try again. Elastic beaded anklets can flex and comfortably hug the ankle more closely than non-stretchy anklets. Beaded anklets with clasps and anklet chains need to hang freely around the ankle for ease of motion.
Visit WWW.CELTICCOPPER.COM for our full collection of solid copper jewelry.