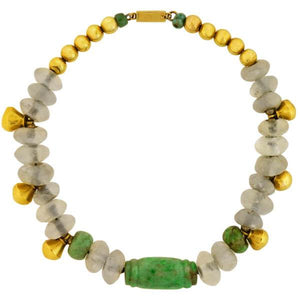 William Spratling is often referred to the "Father of Contemporary Mexican Silver" which is a title that was well deserved. He was an innovative and talented designer of Mexican silver jewelry and other pieces of artwork made of copper and tin. He dedicated his time and skill to the artistic development and growth of the silver industry in Taxco. Spratling jewelry is extremely collectable and each piece is considered a wonderful work of art.
Rarely did William Spratling work with gold, however, his discovery of ancient Mayan lands and artifacts in the late 1920s with distinguished Tulane University anthropologists, sparked his interested in the precious metal.
This extremely rare and bold Vintage necklace from the late 1920s is a fantastic example of William Spratling's Mayan discoveries and expansive talent! A very unusual and one-of-a-kind Spratling piece, this necklace, which is quite substantial both in size and appearance, is crafted in 22kt yellow gold, and features stunning hand-carved ancient Mayan jade and rock quartz crystal beads. At the center is a large, elongated hand-carved jade bead which rests between two rock quartz rondelle stones which are hand cut and polished. Similar-sized Mayan jade rondelles follow and are found on either side of the five-link centerpiece. The remaining pattern of the necklace features handmade conch-shaped gold bells crafted in 22kt yellow gold which alternate with sections of three large rock crystal rondelle beads. Finishing the remarkable piece, on either side of the 18kt yellow gold push clasp are five polished round beads crafted in 14kt yellow gold and two final jade beads. The vibrant jade features fantastic natural coloring, displaying varying shades of vivid, soft and milky green hues, standing out beautifully next to the brilliant yellow gold and soft rock crystal. The necklace is strung on a thick piece of thread and stamped on the push clasp is Spratling's signature hallmark and "18K." The historical and beautiful necklace has a bold and stylish look when worn and due to its rarity, the stunning piece would make any Spratling collection complete!
Measurements: The necklace measures approximately 16" long from end to end. Then center jade bead measures approximately 1 1/2" long and each quartz rondelle measures approximately 3/4" long. The gold bells hang approximately 7/8" long when worn.
Condition: The overall condition of the necklace is excellent. Besides normal surface wear, there is no serious damage to the gold beads or bells, or to the rock crystal, or jade beads. The clasp fastens securely, and the stringing remains in excellent condition.