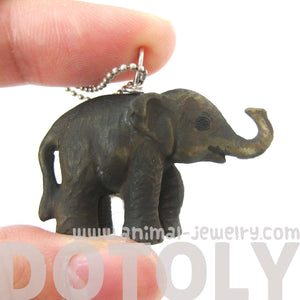 A handmade porcelain animal necklace featuring an elephant pendant! The elephant is in a standing pose with its trunk in the air! It is very detailed you can even see the wrinkles in the textures of its skin!

For more and products please visit our store!

Please allow for slight differences as the items are hand painted and handmade.

| | 

Size: The elephant pendant measures 2.5 cm tall by 4 cm wide and hangs on a 28 inch long silver plated chain!
Care Instructions: Be super careful! This item is made from porcelain so it is fragile and can break if dropped!

Return & Exchange Policy:
Handmade items are not eligible for returns or exchanges but if the item arrives damaged we will either replace it or refund it provided you can send us a photo of the damaged item.

We take great care in packing or items but accidents can happen but don't worry! Just contact us within 24 hours of receiving your package (as determined by tracking) to let us know of the problem and we will fix it asap! After that it's your responsibility to keep it safe and sound!