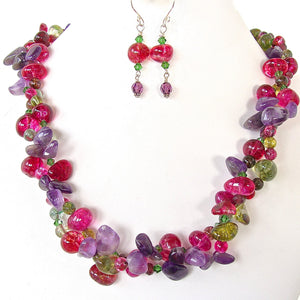 Truly exquisite, this handcrafted beaded twist necklace of color-rich gemstones is a real statement piece. Full length is 20" when twisted.
Designed by Roslyn Tanner Evans in our Rockland, NY studio, this is an occasion-ready chunky gemstone necklace that's big on sparkle and color. Sure to enhance your favorite holiday ensembles and very flattering to a Rubenesque physique.
Two strands of vibrant top drilled quartz(dyed) intermingle with large amethyst chips and Swarovski crystals. Jewel tone colors of emerald, purple and berry pink are the dominant hues. This standout piece can be worn twisted or as two open strands. The more you twist it, the chunkier and shorter it gets.
Outer strand is 22.5" and inner strand 21". Finished with a decorative silver-toned pewter cone and oversized silver toned pewter hook and eye clasp.
Included in the set are coordinating earrings of quartz and Swarovski crystal that fall 1" from sterling silver ear wires.
This piece is a one-of-a-kind, please contact us for custom color requests.