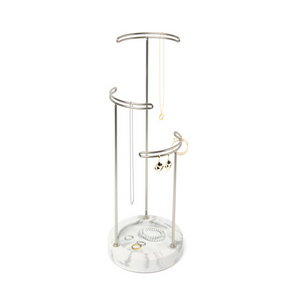 Make your jewelry look its best…apart from when you're wearing it that is! Tesora delivers the unexpected using materials like marbled white resin and plated nickel to create a truly beautiful piece that can store some of your most delicate and cherished items.
Three-Tier Stand TESORA's marbled white resin dish with three nickel-plated posts at varying heights displays your favorite necklaces, bracelets, bangles, rings, earrings and more. Its stand features unique double wire detailing on each post for easy and secure display of studded earrings or cufflinks. Its base functions as a dish for holding rings, broaches and other accessories.
TESORA Jewelry Stand measures 6 ¼ (diameter) x 16 ¼ inches (height).