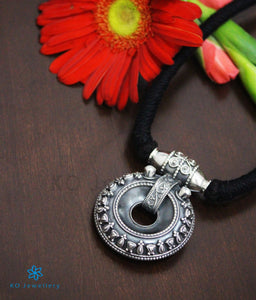 Flaunt a great piece of jewellery that will make you stand out.This handcrafted necklace is made up of an attractive sterling silver (92.5%) pendant with intricate design that has been woven in a black thread.
(Note: The colour of the thread can be customised according to your preference) 
Product Details :
Measurements: Length of Necklace: 18 inches (tassle provided to shorten/lengthen the necklace) 
Height of pendant: 2.2 inch; Width of pendant: 1.8 inch.
Gemstones used: None.
Made of: Sterling Silver (92.5%)