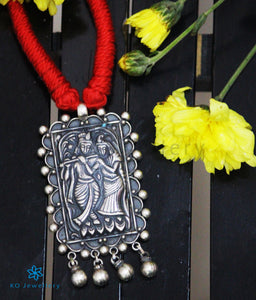 A stunning ethnic necklace , in which a sterling silver (92.5%) pendant with the image of Radha-Krishna is handwoven into bright red cotton thread.The rectangular shape of the pendant and the bright colour make this piece stand out.
(Note: The colour of the thread can be customised according to your preference) 
Product Details
Measurements:  Length of necklace : 18 inches (Tassle given at back to adjust length)
Height of pendant: 3.2 inch; Width of pendant: 1.75 inch.
Gemstones used: none.
Made of: Sterling Silver (92.5%)