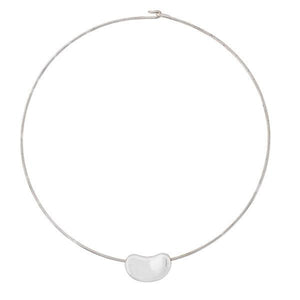 Born in Florence, Elsa Peretti's first introduction with her collection began at Tiffany & Co. in 1974. During that time her collection debuted to high acclaim. Her inspiration in jewelry came from nature with elements such as bones, beans, hearts, scorpions, snakes, teardrops and sea-shells. Peretti's designs are translated in a wide variety of materials, however her most popular designs are her works in silver.

This beautiful bean pendant from Tiffany & Co. is one of Elsa Peretti's most iconic jewelry designs! Made of sterling silver, the necklace takes form in a small bean shaped pendant which hangs from a sterling silver wire hoop. The bean has a unique, asymmetrical design which is void of sharp edges and accentuates the piece's flowing curves, one of the hallmarks of Elsa Peretti's works. The organic design of the bean is symbolic, representing the origin of all things. The sterling hoop is threaded through an opening at each side of the pendant and on the back are the authentic "TIFFANY & CO." and "Peretti" hallmarks, along with the stamp "925". The necklace connects together in the back with two small hooks. This fabulous and unique piece from a legendary jewelry maker would make a very fashionable addition to any jewelry collection!

Measurements: The hoop measures approximately 5 3/8" wide, and 5 3/4" tall. The bean pendant measures 1" wide, 5/8" tall and 3/8" thick.

Condition: The overall condition of the piece is excellent. Besides normal surface wear, there is no apparent damage to the sterling silver bean pendant or to the sterling hoop necklace. The clasp fastens securely and is in good working condition.