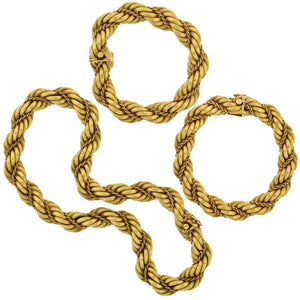 This magnificent Vintage Tiffany & Co. piece is from the 1970s era and has a convertible design that can be worn in several stylish ways! Crafted in rich 18kt yellow gold, this bold statement piece is comprised of three interlocking chains, which connect together to form a single, long heavy twisted rope chain necklace. A smaller, more delicate rope chain coils within the twisted design and curves around the entire length of the necklace, adding a wonderful contrasting textured appeal. The convertible piece can be worn as a single, long chain, as a medium length chain with one bracelet, or it can also be separated into thirds, and worn as two matching bracelets with a choker-style necklace. This fabulous conversion is made possible by three push clasps featuring safety latches seamlessly hidden within the length of necklace. Several hallmarks are found on each clasp, including "ITALY," "TIFFANY & CO," along with an "18K" gold purity mark. Despite the large, chunky size of the twisted rope design, this statement piece remains fairly lightweight for comfortable wear, and the versatility provides endless possibilities! Accompanying the piece is the original Tiffany & Co. blue suede pouch with drawstring closure, along with the original square box and lid. A wonderful necklace and bracelet set by a legendary jewelry designer, this statement piece would make an outstanding addition to any fashion-forward woman's collection!
Measurements: When clasped together, the entire chain measures approximately 30.5" in total length, and is 1/2" wide and thick. When separated into thirds, the choker style necklace measures 15" long, and each bracelet measures 8" long. The overall pennyweight of the piece is 114.4dwt (177.9 grams).
Condition: The overall condition of the chain necklace is excellent. Besides normal surface wear, there is no apparent damage to the yellow gold setting. All of the push claps and safety latches are secure and in good working order. The suede pouch and outer box show some signs of surface wear, however, they remain in good pre-owned condition.