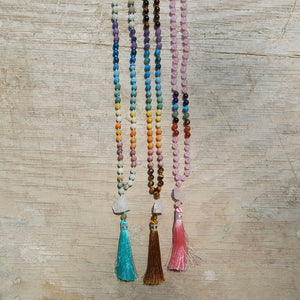 TIGER EYE 7 CHAKRAS MALA NECKLACE
Knotted natural stones.
GEMSTONE TIGER EYE AND FROSTED AGATE

⭐️BEST SELLER!

This wonderful Mala necklace is made predominantly with Tiger Eye natural stones beads, 7 different colours of frosted agate and a beautiful raw natural clear quartz stone that has the function of energetic cleansing of the entire necklace.
 "Chakras are the circular vortexes of energy that are placed in seven different points on the spinal column, and all the seven chakras are connected to the various organs and glands within the body. These chakras are responsible for disturbing the life energy, which is also known as Qi or Praana "
Hand knotted with silk and Egyptian cotton tassel.
Special for meditators, buddhist, yoguis and mindfullness meditators.
"Tiger Eye is is a powerful stone that helps you to aids harmony and balance. It stimulates taking action, and helps you to make decisions with discernment and understanding, and unclouded by your emotions"
- 8 mm Purple Agate - Enlightenment, Cosmic, Energy- Crown Chakra
- 8 mm Blue Agate - Spiritual Awareness, Intuition - Brow Chakra
- 8 mm Turquoise Agate - Communication, Clarity, Truth - Throat Chakra
- 8 mm Green Agate - Love, Emotions, Compassion - Heart Chakra
- 8 mm Yellow Agate- Intellect, Personal Power, Protection - Solar Chakra
- 8 mm Orange Agate - Creativity, Cleansing, Emotion - Sacral Chakra
- 8 mm Red Agate - Grounding, Stability, Will Power - Root Chakra
- Guru stone: Raw Clear Quartz - Healing stone of all the crystals.
- The Length of this beautiful Necklace is about: 78,00cm = 31 inches
Please note that the colour and translucency in gemstones differs from piece to piece due to natural variation.