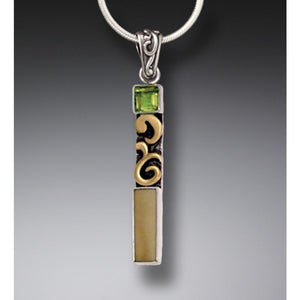 The totem necklace features a faceted square cut peridot top stone and base of fossilized walrus tusk ivory, creating a pendant with ancient origins set into a contemporary totem design.
Fossilized Ivory Jewelry - Peridot Totem Necklace
The word -totem- finds its origin in a Native American word meaning kin. A totem is a sacred object or symbol that represents a family or group. Many groups adopt what can be seen as modern totems, infusing them with the particular meaning that resonates for them.
Zealandia's fossilized ivory totem necklace is designed in a contemporary and abstract suggestion of a traditional totem. Its slender and organically geometric shape makes it an ideal solitaire pendant created in nature's colors. Fresh green peridot is set off beautifully against this pendant's warm 14k gold fill filigrees and earthy ancient ivory.
Peridot is a semi-precious stone associated with harmony. We feature faceted stones such as this peridot almost exclusively in our fossilized ivory jewelry for the interplay of dense, creamy ancient ivory against the bright facets.
This totem pendant is made in fossilized walrus tusk, an ancient ivory. This ancient ivory is often used in Zealandia jewelry, and it is prized the world over for its rare quality. Our fossilized walrus tusk spends centuries buried in the earth before natural erosion and tides bring it back to the light. Native peoples gather this ancient ivory to be crafted into fine jewelry pieces such as this carved ivory pendant and other artisanal works.
Our ancient fossilized ivory lends this totem necklace a touch of eras past, an age-old history that finds new expression through our modern jewelry design
Hand carved fossilized walrus tusk
Faceted green peridot
Sterling silver setting
Fine 14k gold fill accents.
Width 1/4" x Height 1 7/8" (approx)
This pendant comes on an 18" sterling silver 1.1mm box with with a secure sterling silver lobster clasp.
Please allow 10 days to 2 weeks for delivery. 
SFGP674NB