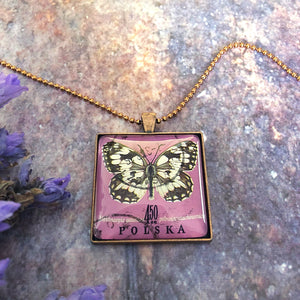 Square butterfly pendant necklace, handmade with vintage postage stamp, Poland 1967, a great gift for birthday or anniversary and for anyone who loves butterflies and moths, in a versatile unisex style.

Size: this is the largest square pendant I make - at 35mm (approx 1.377") a metal bezel with copper tone, and the original vintage postage stamp set under glass.
Ready to ship on 24" copper coloured ball and chain necklace, easily trims to shorter lengths.

All Starzyia postage stamp jewellery is presented in vintage postage branded boxes as shown in the product images.
You can find info about shipping costs, standard delivery times, as well as our store policies on our FAQ's page here