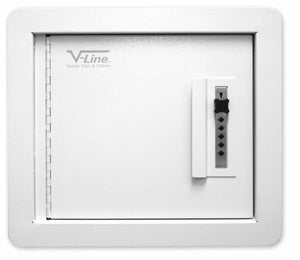 V-Line 41214-S Quick Vault In-Wall Pistol Safe
V-Line's 41214-S Quick Vault is designed to be hidden in the wall and fits perfectly between 16" o/c wall studs. It will hold 1-2 handguns as well as other valuables and even extra cash. Put your watch, ring or necklace you wear everyday in this wall safe for the perfect "Hiding Place" and convenient access.
The door and locking mechanism on the V-Line Quick Vault is recessed. This safe mounts flush with the wall so that a picture or mirror can be hung in front of it. This makes it very hard for someone to find your safe to even attempt to break into it. The bezel / flange around the outside will hide the drywall cuts and allow for a clean finished look.
The V-Line 41214-S Quick Vault features an easy to use Simplex mechanical lock with 1081 possible combinations. It will give you quick access in the event of an emergency if you need to get your handgun out in a hurry. You can set your own custom combination at any time with numbers that only you will know. Because it is mechanical, you will not have to worry again about losing a key or having to change a battery again. 
The inside of the V-Line 41214-S Quick Vault has a felt lined fabric on the back, bottom and sides. This keeps your handguns and contents protected and scratch-free. There is one (1) adjustable shelf which helps keep everything organized inside this wall safe. Additional shelves can be ordered for an extra cost. Because of it's size, it is large enough to easily hold a wall, jewelry, handguns and other valuable valuables.
If you have any questions regarding the V-Line 41214-S Quick Vault In-Wall Pistol Safe, please call us at 800-207-2259.
This is a California-approved firearms safety device that meets the requirements of California Penal Code Section 12088 and the regulations issued thereunder.
Standard Features
One adjustable felt lined shelf included. Additional shelves available.
Five button mechanical lock for quick access with 1081 possible combinations.
3/8" thick steel lock block welded to cover guides and adds strength to the lock bolt.
14 Gauge steel body.
Pre-punched holes for easy installation.
Lock bolts directly through the inner frame of case to prevent prying.
Felt lining in back, bottom and sides protects contents.
Sturdy fabricated steel construction with pry resistant clamshell design.
Available in textured semi-gloss ivory powder coated finish.
Continuous hinge is welded on one end to prevent pin removal.
Made in the USA
Outer Dim:14.00" x 12.00" x 3.00"
Overall Outer Dim (including frame):17.00" x 15.00" x 3.00"
---
Tyson
"I just installed this safe in my home. It is very sturdy and the mechanism is nice and smooth. Overall, I'm very pleased with it. I chose V-Line primarily for the lock, since it does not rely on a key or batteries and I can open it quickly and easily without looking (or in the dark). The first time I tried to change the lock combination, I kept doing it wrong and I called V-Line and the man walked me through the instructions step-by-step and I realized I was doing one of the steps incorrectly the whole time. So, be very careful with the instructions! I also had a hard time finding instructions for installing the extra shelf. I ultimately figured it out by watching the 5-minute installation video on YouTube where the lady walks through every step of installation. Basically, you just spread the felt apart a little bit for each of the slits in the back to find the holes to screw into. Then you can push it back together where it wasn't covering the holes you want. I just used my fingernails for this."
---
How to install your V-Line Quick Vault
---
 How to change your Simplex Lock Combination