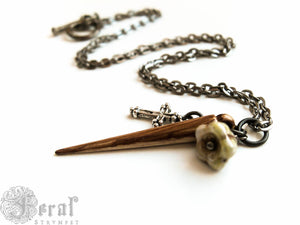 Killer stake necklace with Czech glass garlic bulb and little cross for good measure. Stake is made of sturdy resin, painted to resemble wood, the cross is made of Tibetan silver and the little garlic bulb is of Czech glass with a Picasso finish which gives it an organic feel. Your weapon against chi thieves, time wasters and psychic vampires.
Necklace measures 18" including toggle clasp, and stake is 1 1/2" long.
"This is my lucky stake. I have killed many Vampires with it. I call it Mister Pointy." --Kendra Young, from Buffy the Vampire Slayer.
My obsessive love of Buffy has led me to make many jewelry designs, including "Mister Pointy"!