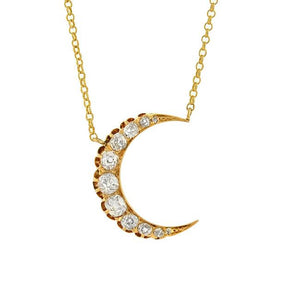 A stunning crescent moon necklace from the Victorian era (ca1880)! Made of vibrant 14kt yellow gold, the necklace features a diamond crescent pendant that hangs from a modern chain. Beautiful old Mine Cut diamonds line the surface of the crescent, weighing approximately 0.80ctw. The graduated stones have a lively sparkle, catching the light perfectly and a scalloped prong design is visible from the side, suspending the diamonds in a typical Victorian fashion. Attached to either side of the crescent is a modern gold chain which ornately adorns a single 0.05ct bezel set diamond, set off to the side of the crescent. The chain fastens at a spring clasp in the back marked "14K." This celestial piece is positively breathtaking in person, and would look wonderful worn day or night!
Measurements: The necklace can be worn at two lengths: 18" or 16" long, thanks to a gold adjuster ring within the back of the chain. The diamond crescent measures 7/8" tall, 3/4" wide, and 1/8" thick.
Condition: The necklace is in outstanding condition. Besides normal surface wear, there is no apparent damage to the gold setting. All of of the diamonds are intact and securely set. The chain and spring ring clasp are secure and in good working condition.