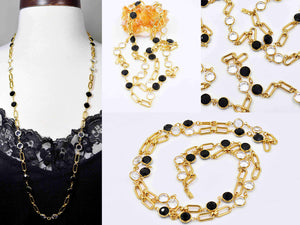 For offer today, I have this beautiful crystal bezel necklace from Swarovski!
This lovely necklace is constructed with a thick, gold-plated, fancy paperclip style chain. Sections of two black or two clear, gold-cased crystal bezels alternate with the chain sections around the entire necklace, creating a fabulous pattern. The bright gold chain links add additional weight and visual interest to the piece, making this a real standout! It's quite striking!
The necklace measures about 33 inches in length and the chain is approximately 6mm wide. The crystal bezels are approximately 8mm in size each. The necklace is signed with the Swarovski swan mark on its attached tag. The necklace is a continuous strand without a clasp. 
With the thick gold links and the black and clear color scheme, this necklace has such a classic beauty! It could be worn with most any color of outfit and would nicely complement your other gold jewelry. The gold finish is in fabulous condition and other than a tiny nick or two to a couple of the crystals, the necklace is in excellent condition. It's such a marvelous find! 
This necklace would also look wonderful doubled up and worn at the neckline as a two-strand necklace, but it would require the addition of a clasp. If you'd like to have a clasp added to add versatility to this lovely necklace, then just follow the instructions in the paragraph below, and I'll take care of the rest!
Do you wish you could also wear this necklace as a double strand choker? Do you wish it had a clasp? I can add a gold-filled, spring ring clasp to this necklace for you! Just add the "ADD A CLASP" item at the link below to your cart at the same time you purchase the necklace, and I will take care of the rest!
SIGNED: SWAROVSKI SWAN MARK ON ATTACHED TAG
SIZE: NECKLACE-APPROX 33 INCHES LONG AND 6MM WIDE AND CRYSTALS-APPROX 8MM EACH
CONDITION: EXCELLENT, PRE-OWNED, VINTAGE CONDITION. NORMAL SURFACE SCRATCHES FROM PREVIOUS USE/WEAR/STORAGE. FINISH IS BRIGHT & SHINY & OTHER THAN A NICK OR TWO TO A COUPLE OF THE CRYSTALS, THE PIECE IS IN GREAT CONDITION & SHOWS VERY WELL!
SEE PHOTOS FOR ITEM SPECIFICS