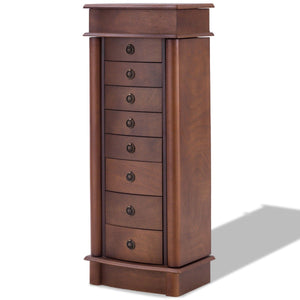 This newly designed jewelry cabinet with mirror on top, which serves as a perfect example for large storage capacity.
The 8 drawers save you a large space for your favorite accessories such as bracelets, glasses, ties, scarves, watches, perfumes while the interior hooks on the side doors prevent your necklaces and chains from tangling and fold in to form a sleek, uniform front. You can save your favorite accessories safely and in an organized manner, and dressing mirror and jewelry cabinet cleverly combines is convenient and practical, it makes it easy to choose your jewelry in the morning without the frustration of looking for missing pieces.
If you are looking for a jewelry cabinet, don¡¯t hesitate to buy it!
High quality and brand new
Elegantly designed with modern, smooth lines
Premium MDF construction & Velvet Liner, moisture and corrosion resistant
Professional divide: top compartment features ring/ear studs roll, watch/bracelet grids
8 drawers and two side doors provide powerful storage capacity
Dressing mirror and jewelry cabinet cleverly combines is convenient and practical
Nicely designed shape with strong stand on bottom
Suitable for all types of jewelries
Assembly required


Color: Walnut
Material: MDF + wood
Mirror material: Glass
Weight: About 42 lbs
Overall dimensions: 15.9" x 10.6" x 41.2" (L x W x H)
Inner size of large drawer: 8.5" x 7.5" x 3.1" (L x D x H)
Inner size of small drawer: 8.5" x 7.5" x 2.0" (L x D x H)
Inner size of cabinet: 7.5" x 1.8" x 30.3" (L x D x H)
Please refer to the picture for more size information
Package: 1 x Jewelry cabinet