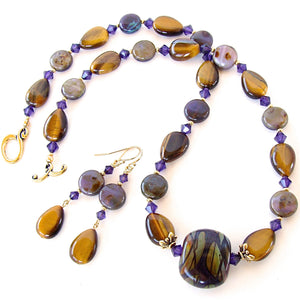 The royal blend of purple crystal and tigers eye gemstones paired with unique glass beads creates the opulent look of this beautiful handmade necklace set. Full length 18.5".
This art glass necklace with tigers eye gemstones was designed for the Etherea Collection. Its regal  palette pairs this season's trending purple with rich tigers eye. This unique set will add a touch of artful luxury to your look. 
The hand-blown lampwork glass centerpiece sets the tone for this piece. It has an artful and organic feel to it, awash in shades of green and amber and decorated with painterly strokes in aubergine. It is framed by Swarovski crystals in deep purple that accent the body of the necklace as well. The additional design elements in this complement the complex palette of the focal bead. They are: lustrous golden tigers eye drops, designer Czech glass discs and metallic gold beads.   
The necklace closes at 18.5" with a decorative gold toned, lead-free pewter toggle clasp. 
Included in this set are coordinating drop earrings. They fall 1.75" from gold-filled ear wires.